Minimal Bride and Groom Cookie Stamp
$32.00 AUD
Made from premium 6mm thick frosted acrylic.
Bride and groom cookie embosser stamp width is 7.5cm, height 9.5cm.
Hand wash only.
Pictured using a 7x7cm square cutter.
*Other stamps and cutters pictured are not included*
Please note that some minor irregularities can occur due to the nature of your product(s) being made to order.
In stock
Customer Reviews
07/21/2021
Love it.
I am so in love with this cut, I wish it was available when I was getting married. :)
Isabelle L.

AU
05/19/2021
WE LOVE THESE STAMPS!
This stamp is just my favourite of the whole range. I have used this stamps for so many weddings. I also used this stamp for a Great Gatsby Party. I just changed it up a little. This is by far the most gorgeous bride and groom stamp I own. I actually just today finished a HUGE order being shipped to Sydney today. This stamp was apart of the wedding set. Just stunning.
Georgia L.

Australia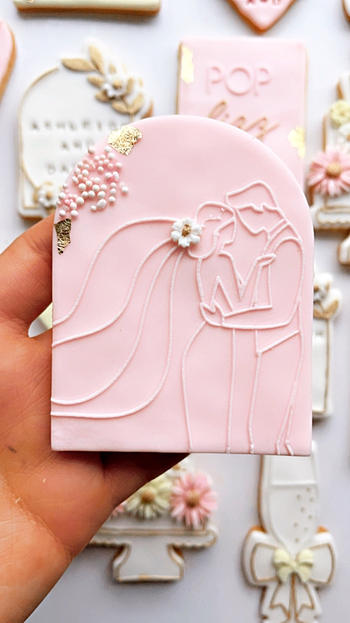 05/17/2021
Absolutely amazing quality!
I've purchased from Lulu and Stone a few times now and each time I am more and more impressed by the quality of these stamps and cutters! The designs themselves are absolutely beautiful and the attention to detail is second to none! They are all so versatile and will make any cookie set pop! Couldn't recommend them enough! Thankyou so much girls! 💗
Emilee O.

AU
11/02/2021
Perfect
Very easy to use!
Jasmine G.

AU
10/04/2021
So happy!!
So easy to use, and so different from anything else I've seen, absolutely love the products 🥰
Jessica M.

AU
07/08/2021
Bride stamp
Omg love how they turn out so elegant will definitely be ordering more
Karen F.

AU
05/18/2021
Love everything about this
This was the first of many purchases from lulu and stone and I've never looked back. The quality never ceases to amaze me and their customer service is second to none. The stamps are always so easy to work with and achieve the perfect pop with very little effort. Amazing work ladies.
Miroula

Australia
05/16/2021
Lux beauty
The minimalist look works so well to deliver a lux feel on every cookie. Beautiful stamp.
Leigh H.

Australia
05/15/2021
Like a professional
Excellent customer service, great product and super easy to use even for a non professional like me but they turn out like I'm a professional. Lots of comments when I used for a work friend who recently got married
Angela W.

NZ